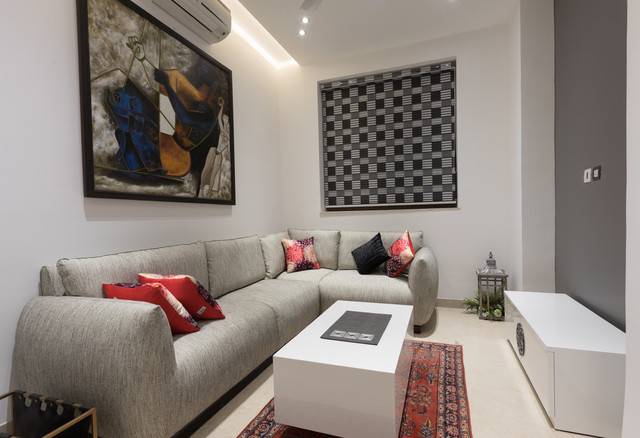 M3M Golf Estate - 1 Apartment
What Houzz contributors are saying:

Pooja Khanna Tyagi added this to 5 Things You Didn't Know About Interior Emulsion Paint
3 May 2019
1. It is a water-based paint Emulsion paint is a water-based paint, where water is used as a medium to apply colour pigment onto the surface to be painted. After the application of paint, the water evaporates and the paint coating hardens by the process of oxidation.Being a water-based paint, emulsion paint is fast-drying and is easy to apply. However, the paint dries slowly in humid conditions.Another advantage is that the paint brushes and rollers can be washed with water, without any cleaning agent, when they are still wet.Get professional advice on paint for your home – go to the Houzz professionals directory

Aditi Sharma Maheshwari added this to Light-Enhancing Tricks & Paint Colours for Dark Living Rooms
5 February 2019
Colours: White or creamWhite reflects the most light, making any space seem open, large and bright. To break the monotony of plain white walls, consider experimenting with different shades of white – cream, off-white, eggshell-white – and layer them in the space through paints and accessories. This type of variation will prevent your space from looking too stark.Light enhancing element: Right lighting fixturesIn a dark living room, carefully think about where you'd like to place your lighting fixtures. Mix up the scheme – use a single bright source of light, such as a chandelier, and complement it with other indirect lighting, such as recessed panels on the ceiling, so that the room doesn't become blindingly bright yet looks cosy, warm and welcoming.Read more:How to Brighten Up Spaces Around Dark FurnitureTell us:Do you have a dark living room? How did you brighten it up? Tell us in Comments below.

Rashmi Haralalka added this to These 14 Small Lounge Rooms Are Big on Comfort
8 December 2018
10. Weaving magic with greyRestful and soothing shades of grey and white combined with pops of colour create a cosy and intimate lounge room. Along with the sectional sofa and dark accent wall, grey is also reinforced in the undertones of the wall art.
What Houzzers are commenting on:
Living Rooms with Similar Colours