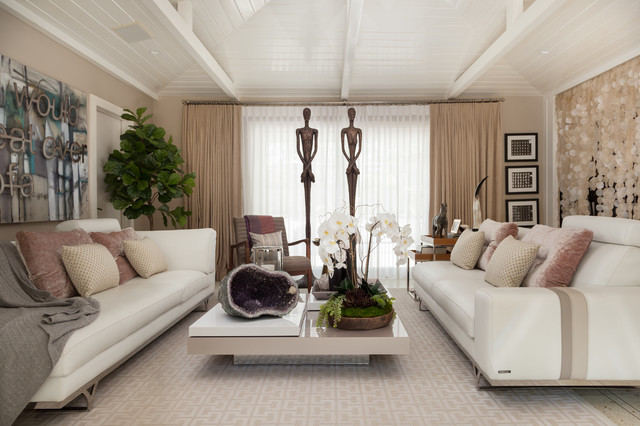 LIVING ROOMS
This living room was sad. There was no rug. The massive leather sofa dominated the room. Furniture was strewn all over. There was no focal point or any interest.

First, we changed the wall color from a cold blue color to a warmer beige color to make the room feel more inviting.

We have a custom rug created from wall-to-wall carpet with a leather edge banding detail that was mitered at the corners.

The existing sectional and separated it. The pillows that came with the sofa were donated to charity and new pillows were handcrafted created of luxurious silk velvet and a metallic woven geometric.

A new midcentury style chair was added and styled with a cashmere through in a strawberry and magenta stria; a woven geometric pillow in neutral tones was added as an accent.

The existing cocktail was placed between the two sofas and we styled it with white orchids in an organic wood bowl with moss and other succulents draping the edge. The client had this beautiful piece of amethyst that provided an organic and colorful accent.

A local artist created the art above the sofa made with later cut aluminum that reads, "this would look great over your sofa", which I thought was clever.

Our client's dogs are very important to her. We had the photos from their photoshoot framed in black frames with white mats to showcase the family.

The luxury leather wrapped nesting tables with polished chrome bases were placed to the arm side of the sofa and accessories with finds from local specialty showrooms and mixed with the client's own collection of priceless treasures and memories.

With the corner of the room, we chose a fiddle leaf fig tree to provide some color and bring in a organic element.

The large window provide plenty of natural light in this space, so we diffused it with a soft white sheet and custom drapery on rings with a satin nickel rod specially crafted for this home in keeping with the style.

Finally, we purchased the seven foot tall male and female statues to take advantage of the vaulted ceiling and to give a sense of drama.

So, tell us, what do you think of our transformation?

Living Rooms with Similar Colours