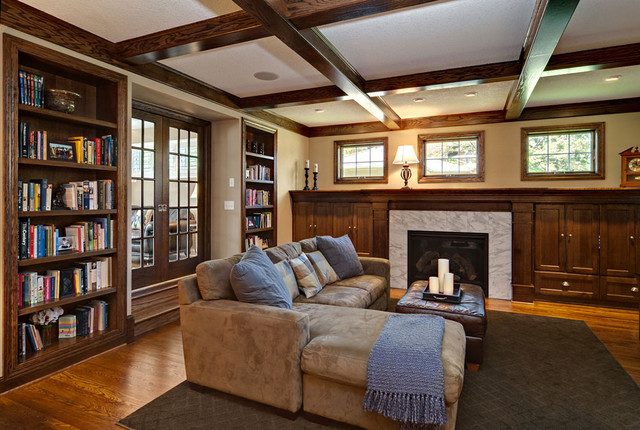 Library with fireplace
Photography by Mark Ehlen - Ehlen Creative
Questions about this space? Contact Bob Boyer at Boyer Building Corp Bobb@boyerbuilding.com
What Houzzers are commenting on:
Eric F added this to My Project
2 March 2021
Too dark and not enough books but something about the lines...
gunde2 added this to living room
18 November 2019
Microfiber. Microfiber isn't technically a performance fabric, but it has a reputation for being stain-resistant and durable, so we wanted to mention it here. Microfiber refers to the thickness of a fiber, not to a specific type of fiber such as acrylic or cotton. These fabrics can stand up to many thousands of rubs before the fibers give out — this is how durability is usually tested. And because the fibers are so thin, they can be woven incredibly tightly. This helps liquids bead up on the surface rather than soaking in immediately. Microfiber drawbacks. Microfiber tends to create static and can be clingy. As a result, the fabric tends to hold on to lint and pet hair. Microfiber has also been known to stretch and distort, especially if it's on a cushion that gets a lot of use. And while liquids might bead up at first, they will soak in and leave a stain if you don't blot them up immediately. Liquid that ends up drying on the fabric will also leave a mark, as will oil from hair and skin.
Living Rooms with Similar Colours