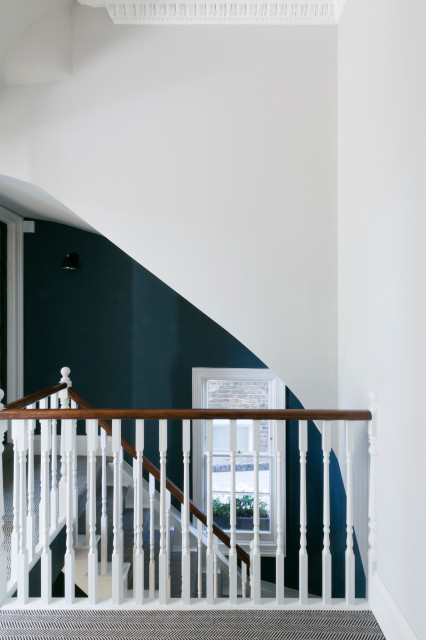 King Henry's Road
Our brief was to extend and completely reconfigure the lower maisonette of a semi-detached Georgian house to create its own entrance, four en suite bedrooms, open living space and good connection to the garden.

Located in a conservation area, the original arrival was via a communal entrance to the upper ground floor with cramped internal circulation giving to the heavily divided lower ground. We were tasked with turning the original house upside down. Access to the proposed new entrance was via a steep and narrow side entrance housing bins and meters and leading to a low-ceilinged back entrance. The interior was completely disconnected from the garden, with the proposed rear aspect dominated by major structural walls.

Our solution was to improve the arrival sequence, key to achieving an immediate sense of quality and generosity of space. We created a gradual stair to an enlarged front door. A new internal stair allowed us to open up generous proportions in the hallway using mirrors to bounce light and views of the garden into the heart of the home. Clever structural solutions enabled us to open out the rear wall entirely, lower the floor and to create large, elegant openings into the garden. Externally, we repeated the upper level bay window design at lower ground floor with carefully considered fenestration to join new with old and accentuate the proportions of the original building. The extension roof was planted bringing the garden into the sunny master bedroom suite.
Homes with Similar Colours