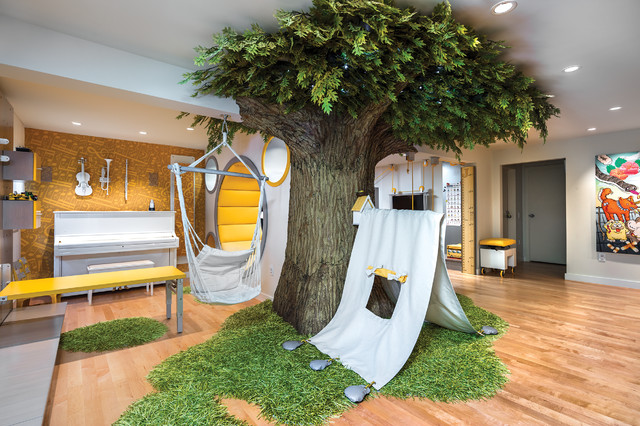 Kids' Room - Artist Palette - Thinkterior
THEME This room is dedicated to supporting and encouraging the young artist in art and music. From the hand-painted instruments decorating the music corner to
the dedicated foldaway art table, every space is tailored to the creative spirit, offering a place to be inspired, a nook to relax or a corner to practice. This environment
radiates energy from the ground up, showering the room in natural, vibrant color.

FOCUS A majestic, floor-to-ceiling tree anchors the space, boldly transporting the beauty of nature into the house--along with the fun of swinging from a tree branch,
pitching a tent or reading under the beautiful canopy. The tree shares pride of place with a unique, retroinspired
room divider housing a colorful padded nook perfect for
reading, watching television or just relaxing.

STORAGE Multiple storage options are integrated to accommodate the family's eclectic interests and
varied needs. From hidden cabinets in the floor to movable shelves and storage bins, there is room
for everything. The two wardrobes provide generous storage capacity without taking up valuable floor
space, and readily open up to sweep toys out of sight. The myWall® panels accommodate various shelving options and bins that can all be repositioned as needed. Additional storage and display options are strategically
provided around the room to store sheet music or display art projects on any of three magnetic panels.

GROWTH While the young artist experiments with media or music, he can also adapt this space to complement his experiences. The myWall® panels promote easy transformation and expansion, offer unlimited options, and keep shelving at an optimum height as he grows. All the furniture rolls on casters so the room can sustain the
action during a play date or be completely re-imagined if the family wants a makeover.

SAFETY The elements in this large open space are all designed to enfold a young boy in a playful, creative and safe place. The modular components on the myWall® panels are all locked securely in place no matter what they store. The custom drop-down table includes two safety latches to prevent unintentional opening. The floor drop doors are all equipped with slow glide closing hinges so no fingers will be trapped.
What Houzzers are commenting on:
Kid's Room with Similar Colours