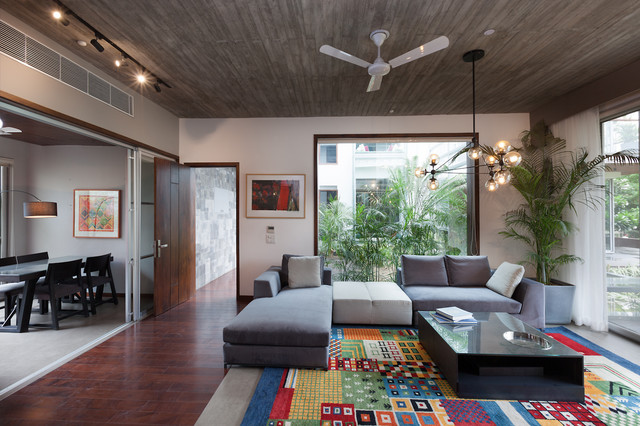 Related Professionals in Delhi
What Houzz contributors are saying:

Vaishnavi Nayel Talawadekar added this to Do I Really Need a Sofa?
30 November 2018
Embrace modular seatsModular seats can be taken apart to serve as solo chairs, joined together to create an extended sofa, and rearranged in various shapes and layouts. They're a great option if you're renting, or if you like to switch up your seating every now and then. This Delhi living room by Kumar Moorthy & Associates is a clever play on modular seating. A set of three benches combine to form an extended U-shaped layout, but can easily be pulled apart to operate independently.Here's why modular seating is a boon to urban homes

Aditi Sharma Maheshwari added this to What Precautions to Take When Living in an Apartment Building
13 August 2018
Have a plan in the event of a fire Everyone, regardless of where they live, should have a plan to get out safely in case of a fire. For people living in larger buildings or on higher floors, the challenge of getting out quickly may require even more advance thought. Escape routes Not knowing the proper fire escape route ahead of time can cost you your life. Some buildings have fire escape plans posted on walls or on maps that landlords will share when you move in. Many buildings do not, and it is up to you to formulate the plan for yourself. Since elevators cannot be used in a fire, you must know the location of the stairs that are closest to your apartment. If you live in an old building with exterior window fire escapes, make sure that window opens freely, learn how to operate the drop ladder that goes from the second story to the ground level and make sure it is kept in good working order.Fire extinguishers and alarms. Keep fire extinguishers in your apartment and know where common fire extinguishers and fire alarms are in your building.

Aditi Sharma Maheshwari added this to How to Free Your Home of Pet Odour
10 August 2018
2. Use air purification devicesOf course, the easiest and most recommended way to keep odours at bay is to keep the home well-ventilated. You can also consider air purifiers that remove indoor pollutants like dust, pet dander and smoke particles, and help keep the home smelling better. Alternatively, to specifically combat pet smells, you can purchase pet odour and stain remover products.Here are seven ways to a dust-free home
What Houzzers are commenting on:
Living Rooms with Similar Colours