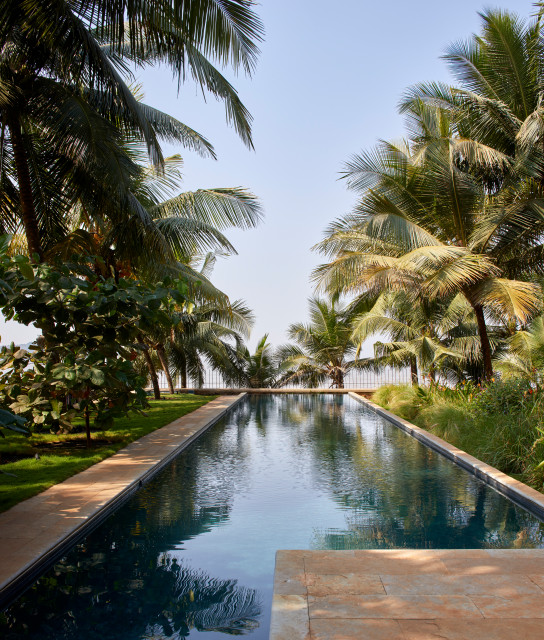 House in a Beach Garden
By placing the 20 meter long swimming pool in the direction of the sea and just above the boundary wall, it enjoys a seamless visual transition to the ocean. The dark pool allows for a clear reflection the palms and other trees that tower over it. Landscaping on either side soften the edges of the shahabad stone that wraps around the pool. Despite the earth fill surrounding the trees, our team was able to retain them. Since conical brick wells surround the base of the trees and keep the earth away, they can continue to breathe. Simple tree gratings made of leftover rebars, prevent those wells from becoming dangerous pits.
What Houzz contributors are saying:

Vinita Kunnath added this to Alibaug Houzz: An Old Beachside Home Gets a New Lease of Life
10 June 2021
On the grounds out front, the 20-metre-long swimming pool enjoys a seamless visual transition to the ocean. Shahabad stone surrounds the pool and rows of palm trees flank the water body on either side.Read more: Goa Houzz: A Green Contemporary Holiday Home With Vernacular ElementsHouzz Tour: A Mahabaleshwar Holiday Home Brims With LuxuryTell us: What did you like the most about this house? Do tell us in the comments below.