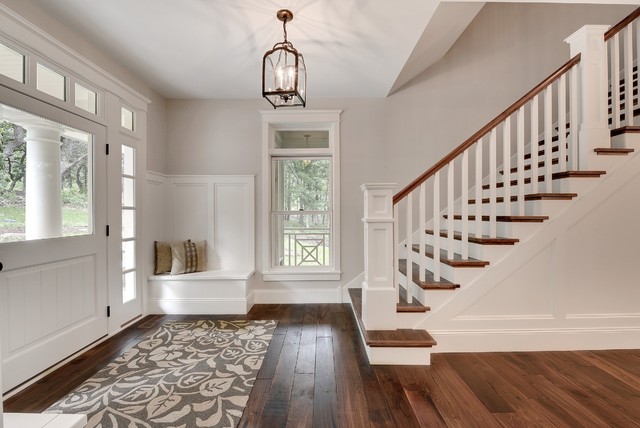 What Houzz contributors are saying:

Pooja Khanna Tyagi added this to A Guide to Using Polyurethane Finish On Wood
9 May 2018
It is essential to keep the area well ventilated and switch on the exhaust fans so that any strong and toxic fumes emitted by the polyurethane are instantly replaced with fresh air. Use a respirator while working to avoid inhalation of toxic gases. As a precaution, keep children and older people away from the site. Open the polyurethane container and stir it slowly. Do not churn the contents of the container, as it can cause air bubbles to form, which might show after you paint it on the wooden surface. It is important that you read the manufacturer's instructions; you might have to thin the polyurethane with mineral spirit before application.Now apply the first coat of polyurethane on the wooden surface with a spray, brush or a roller. When applying on vertical surfaces the coating may drip (in that case you must sand it immediately when dry). Allow the polyurethane coating to dry properly.Re-sand the coating before applying the next coat of polyurethane.Repeat the process till you achieve the desired level of protection. Indoor furniture will require a minimum of two coats of polyurethane while wooden floors shall require three coats for optimum protection.The drying time between each coat is usually two hours. It is advisable to wait at least 24 hours after application of the final coat before using the wooden floors or furniture, because the polyurethane coating might still be sticky.Read more:What are the Best Material Finishes for Wardrobes?Lacquer, Varnish or Polyurethane: Which Wood Finish is Best?Tell us:Which wood finish have you used and what has been your experience? Share below.
What Houzzers are commenting on: