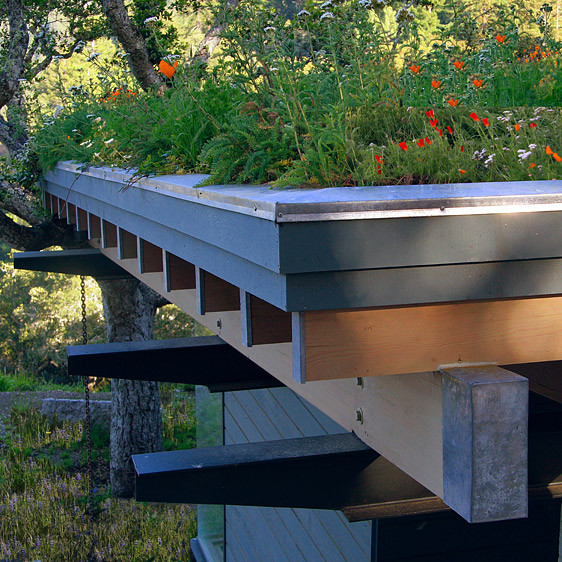 What Houzz contributors are saying:

Shristi Nangalia added this to Why You Should Consider Having a Green Roof
23 January 2018
2. It manages surface runoffUnlike impermeable, hard roofs, the soil or substrate of green roofs absorbs the falling rain water and lowers the rate of runoff, saving a considerable amount of water that is otherwise left to drain into the sewers. The green roof can be integrated with a rainwater harvesting system to let the storm water nourish the plants before entering the storage. This directly cuts down issues relating to water pooling on roofs and lawns.It is interesting to know that the many layers of the green roof act as a natural purifier for the rain water. The filter blocks bigger particles, while the plant medium tends to absorb many harmful toxins.

Laura Gaskill added this to 8 Smart and Eco-Friendly Options for Roofs
23 October 2017
Add-nn number 2: Green roofProsAdding insulation, cooling your home, cleaning the air and reducing the amount of storm-water runoff are just a few of the benefits of adding a green roof to your home. Planting green roofs in urban areas can also help mitigate the heat-island effect and add natural beauty to what is usually a neglected space.ConsAside from the initial installation (which can be pricey depending on the size of your roof and the type of garden), a green roof may also require some structural reinforcement to support the weight of the plants and soil. Upkeep also can be an issue – even automatic irrigation systems and native plant gardens need maintenance from time to time, and other roof repairs can be more difficult when workers need to access areas beneath the green layers.
What Houzzers are commenting on:
People who liked this photo also liked