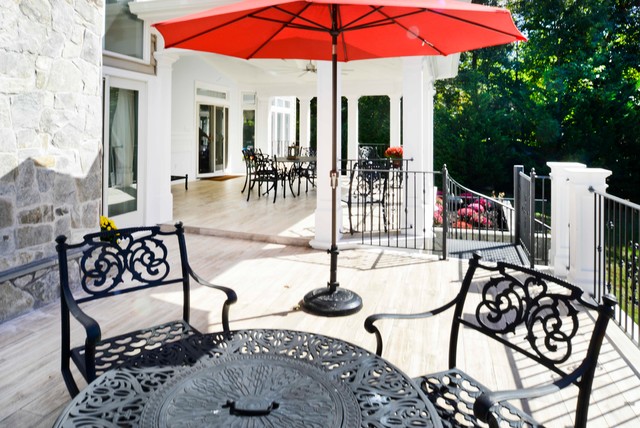 Exterior Remodel Turns Home Backyard into Gorgeous Retreat in Great Falls, Va
This secluded single-family home in Great Falls, had a beautiful backyard setting. The owners recently built a gorgeous pool and surround deck on the right side of the house in their backyard. They inherited a rundown deck off of the kitchen patio doors.
Our team designed a two-story outdoor living addition which offers the family everything that they can hope for in outdoor living.
Our massive plan required excavation to make the lower level patio both attractive and functional for all kinds of outdoor activity. We excavated down two feet to create a nine-foot high patio, cut concrete walls to add French doors from to dark and unused side of the basement bringing improved use for the basement.
The entire back wall was covered with matching brick veneer to entire front and side elevations.
The roof of this patio was covered with EPDM roofing rolls to make the lower patio stay dry and protected.
Steps away from pool sun deck, this flagstone covered patio turned into a prime space for entertainment.
The built-in middle bar equipped with under counter beverage fridge and beer tab to make gatherings more exciting. The side steps built in with matching solid stone threads offered access to driveway and the second floor covered porch.
The second floor is finished with porcelain floor tiles, stain grade ceiling panels, wrought iron rails, decorative recessed panel columns, hanging gorgeous ceiling fans steps away from the kitchen.
Just outside of this covered porch, there is a deck with the same tile floor facing the pool area offering a breath taking view.
Carefully selection of soft toned wood looking plank porcelain tiles compliment the knotty soft grey stain ceiling panels making this project one that shines even on rainy days.
The custom-made spiral rod iron staircase offers an elegant second set of steps so that the upper level deck can reach into backyard and pool deck.

Exteriors with Similar Colours