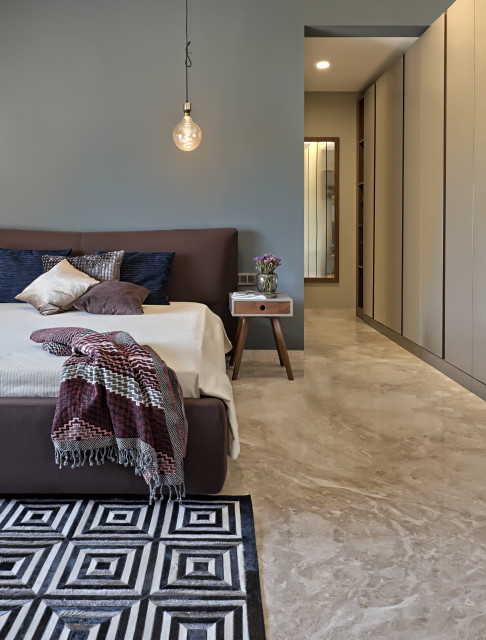 Duplex at Sobha International City, Gurgaon
This 5000 sq.ft. 4 bedroom duplex has a fairly large living room and a double height dining room.
Clients are empty nesters and their brief was to create a comfortable, relaxing, modern, luxurious yet minimalist home for themselves. Both of them have green fingers and wanted enough area both indoors and outdoors for their existing plants. And wanted to keep adding more to their greens. They also specifically mentioned their love for natural materials - Natural teak wood as far as possible for furniture and natural breathable fabrics such as linen and cotton. Their love for nature and everything natural helped me create the perfect look for their apartment. Earthy tones dominate the home. Walls are in a earthy beige almost all over with some darker tones on accent walls. Wallpapers are in complimentary pastel greens or beige with tree motifs. Even the feature lights in the dining area are in 2 shades one of them being a leafy green.Teak wood veneer has been used in false ceilings and wall panellings to add more warmth to the home. Furniture has been carefully selected to add to the relaxed look of the home.

Bedrooms with Similar Colours