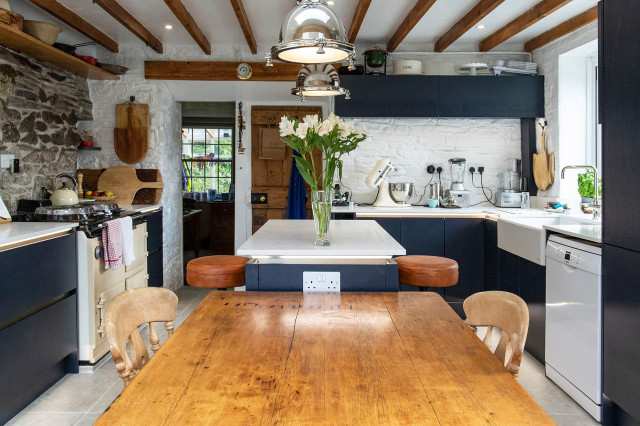 Cottage Kitchen With a Contemporary Twist
Not every cottage kitchen needs to be traditional in design. Our designers are always looking to put a unique twist on a classic design and this charming cottage kitchen is no exception.

This traditional kitchen features our Signature Cary kitchen door and is painted in a brooding Indigo blue. The contemporary twist is in the truly handleless door design, which is a wonderfully unique choice in such a traditional setting.

As you can see from the photos, our client is planning on plenty of cooking so kitchen storage was always going to be an important aspect of the design. Pullout storage, floor-to-ceiling larder cupboards, and rustic wooden shelving all offer plenty of practical storage.

To find out more about how we can combine contemporary features into traditional kitchen designs, come and visit us at our showrooms in Plymouth or St Austell, or book a safe virtual design appointment from the comfort of your home.
Kitchens with Similar Colours