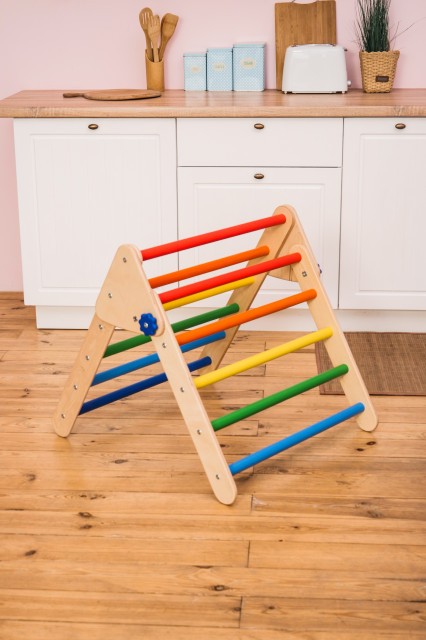 Climbing Triangle Small size Natural Wood and Rainbow
● The Climbing furniture is made from high class polished birch plywood. Birchwood is very strong and flexible. The products are tested at a load of 100 kg, but the maximum load for use is 60 kg. We make sure that everything is brought to perfect condition.

● It is absolutely safe for children: for painting, we use only high-quality, sustainable water-based paints, environmentally friendly varnish. And that's why our products do not cause any allergic reactions, does not emit harmful substances.

● Climbing set like one of the foundations of Montessori teachings helps developing independence. Children independently work on the improvement of their motor skills (explore their body limits in a safe manner) and encourage children's imagination.

DIMENSIONS
•━━━━━━━━━━━━━━━━━•
● Climbing Triangle
Small size:
Height: 65 cm / 25.6 inches
Width: 65 cm/ 25.6 inches
Length steps 73 cm / 28.7 inches

ATTENTION
•━━━━━━━━━━━━━━━━━•
⚠️ This set DOES NOT CONTAIN ANY DANGEROUS CHEMICAL ELEMENTS AND IS SAFE FOR YOUR BABY!!!
⚠️ Watch your children during games on children's furniture!!! Always be vigilant during children's games!!!
⚠️ The color of the product may be slightly different (lighter / darker) because it is made of natural wood.
Kid's Room with Similar Colours