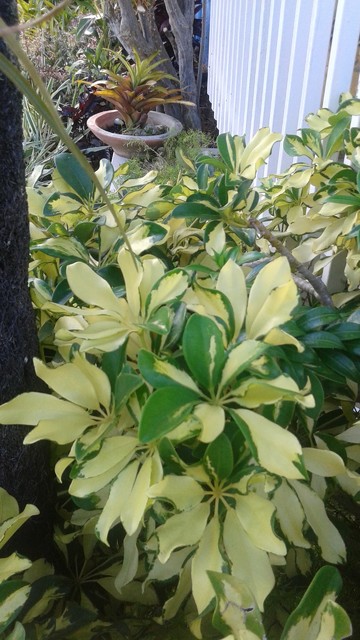 Charming up a Caribbean-colonial front yard
The house gallery hedge was adorned with Asparagus Aethiopicus; Schefflera arboricola 'Variegata'; Ixoras (varied colors: pink, yellow and white).
What Houzz contributors are saying:

Ketaki Godbole Randiwe added this to 8 Best Shade-Loving Plants for Gardens That Get Less Sunshine
27 January 2018
7. Dwarf umbrella tree (Schefflera arboricola 'Variegata')This is a lovely spreading shrub with beautifully variegated leaves with ivory-and-yellow blotches and splashes. Dwarf umbrella trees are medium-light plants, which means that they need bright but indirect light. A common complaint about Schefflera plants is that they get leggy and floppy. This problem is caused by too little light. Always ensure that it has a balance of shade and indirect light. On the other hand, you do not want to place a Schefflera houseplant in bright direct light, as this will burn the leaves.Ideal climate types: TropicalBest for: Excellent choice as a filler/volume plant, as a hedge plant or simply somewhere to show off its attractive foliage.
People who liked this photo also liked