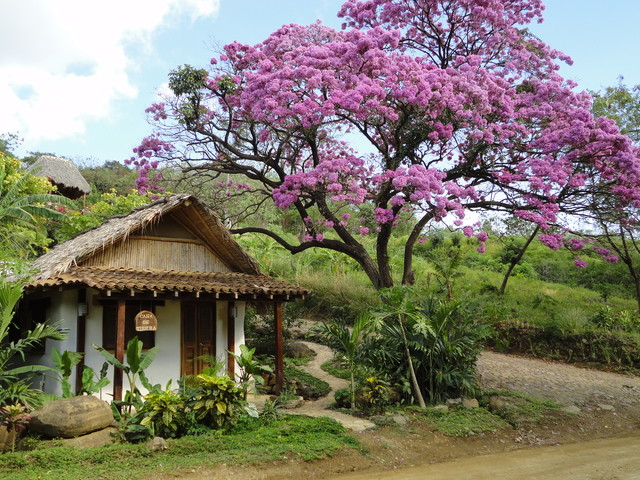 Casita de Tierra
Our pioneer project, Casita de Tierra in San Juan del Sur, Nicaragua, showcases the natural building techniques of a rubble trench foundation, earthbag construction, natural plasters, earthen floors, and a composting toilet.

Our earthbag wall system consists of locally available, cost-efficient, polypropylene bags that are filled with a formula of clay and aggregate unearthed from our building site. The bags are stacked like bricks in running bonds, which are strengthened by courses of barbed wire laid between each row, and tamped into place. The walls are then plastered with a mix composed of clay, sand, soil and straw, and are followed by gypsum and lime renders to create attractive walls.

The casita exhibits a load-bearing wall system demonstrating that thick earthen walls, with no rebar or cement, can support a roofing structure. We, also, installed earthen floors, created an indoor dry-composting toilet system, utilized local woods for the furniture, routed all grey water to the outdoor garden, and maximized air flow by including cross-ventilating screened windows below the natural palm frond and cane roof.

Casita de Tierra exemplifies an economically efficient, structurally sound, aesthetically pleasing, environmentally kind, and socially responsible home.

What Houzzers are commenting on:
Ri-Andy prioritize essentials and discard less added this to Flowers.
23 February 2021
Jacaranda mimosifolia-------in cal. may use along side flame of forest in car drive way. very beautiful. in bside----- use outside too mixed with flame of forest. Pretoria in South Africa is popularly known as The Jacaranda City due to the enormous number of jacaranda trees planted as street trees and in
john webb added this to house ideas
21 March 2019
love that tree!!! I would like two at the front of the driveway

Felix Saavedra added this to yadran77's Ideas
3 September 2018
Me gusta en la forma como están construiendo estos tipos de casa usando elementos naturales, llamativos y atractivo

Exteriors with Similar Colours