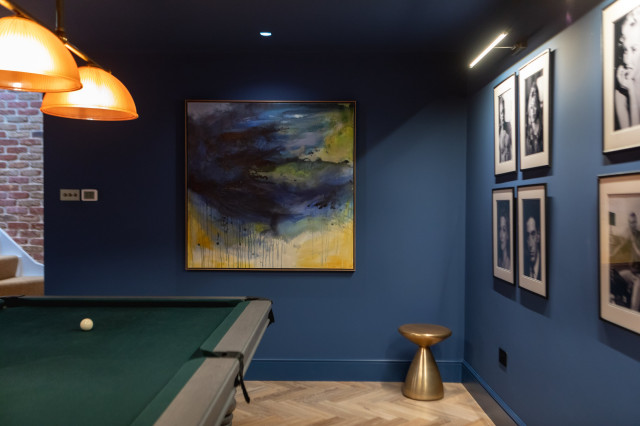 Blue Basement
THE COMPLETE RENOVATION OF A LARGE DETACHED FAMILY HOME

This project was a labour of love from start to finish and we think it shows. We worked closely with the architect and contractor to create the interiors of this stunning house in Richmond, West London. The existing house was just crying out for a new lease of life, it was so incredibly tired and dated. An interior designer's dream.

A new rear extension was designed to house the vast kitchen diner. Below that in the basement – a cinema, games room and bar. In addition, the drawing room, entrance hall, stairwell master bedroom and en-suite also came under our remit. We took all these areas on plan and articulated our concepts to the client in 3D. Then we implemented the whole thing for them. So Timothy James Interiors were responsible for curating or custom-designing everything you see in these photos

OUR FULL INTERIOR DESIGN SERVICE INCLUDING PROJECT COORDINATION AND IMPLEMENTATION

Our brief for this interior design project was to create a 'private members club feel'. Precedents included Soho House and Firmdale Hotels. This is very much our niche so it's little wonder we were appointed. Cosy but luxurious interiors with eye-catching artwork, bright fabrics and eclectic furnishings.

The scope of services for this project included both the interior design and the interior architecture. This included lighting plan , kitchen and bathroom designs, bespoke joinery drawings and a design for a stained glass window.

This project also included the full implementation of the designs we had conceived. We liaised closely with appointed contractor and the trades to ensure the work was carried out in line with the designs. We ordered all of the interior finishes and had them delivered to the relevant specialists. Furniture, soft furnishings and accessories were ordered alongside the site works. When the house was finished we conducted a full installation of the furnishings, artwork and finishing touches.