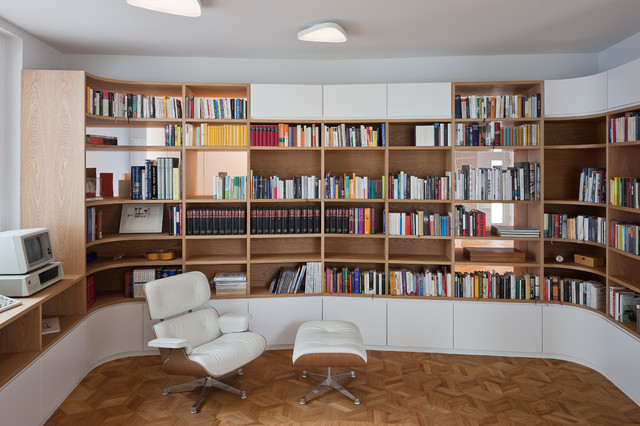 Bibliothek mit halbtransparenten Bücherregalen
Zur Interbau 1957 entstand das Gebäude als großbürgerliches Wohnhaus mit integrierter Augenarztpraxis für Prof. Blumenthal. Nach verschiedenen Entwürfen auch von anderen Architekten für das Grundstück Händelallee 67 wird das großzügige Wohnhaus 1959 von den Architekten Klaus Kirsten und Heinz Nather fertig gestellt. Es öffnet sich im Erdgeschoss fächerartig und sehr großzügig zum Garten. Das Obergeschoss verfügt über eine großzügige Terrasse zum Garten sowie Balkone zur Straßenfassade, die aber später verschlossen wurden, um mehr Fläche im Innenraum zu erhalten. Die Betonwände wurden zum Teil aus dem Schutt der kriegszerstörten Gebäude, die im Hansaviertel standen, hergestellt. Die Architekten wählen typische Materialien der 50er/60er Jahre, wie etwa Klinker und Sichtbeton. Erst später wurden diese Flächen verputzt. Nach diversen Umbauten und einem längeren Leerstand wurde das Gebäude 2001 zu einem großzügigen Wohnhaus umgebaut und teilweise überformt: Die Straßenfassade wird stark verändert, Fenster des Gartenraums mit Einbauten verschlossen, die Pergola verschlossen, Kamine aufgesetzt sowie Eingangshalle mit Treppe umstrukturiert.

Die Umplanungen für eine junge Familie verlangten nach einem zeitgemäßen Innenraumkonzept, dass durch neue Materialien und Formen geprägt ist, die jedoch auf die 50er und 60er Jahre Bezug nehmen. Der bauzeitliche Grundriss wird durch die Innenarchitektur subtil ablesbar gemacht. Die Fassade zur Straße, Pergola und Lichtbänder werden wieder geöffnet und das Haus dadurch lichter und durchlässiger gemacht, wie es der Ursprungsgedanke der Architektur war. Die Fassade wird im Sinne der Denkmalpflege umgestaltet und zum Teil rückgebaut.

Im Erdgeschoss wird der zentrale Wohnraum mit drei spezifischen Räumen für verschiedene Funktionen umlagert: Die Bibiliothek aus Eiche, die Küche aus Aluminium und die Gartenlunge mit grünem Leder. Im Zentrum eine mehrfarbige Sitzlandschaft und ein amorph geformter Esstisch. Im Obergeschoss werden 3 Objekte eingestellt, die im Inneren Bäder und Ankleiden aufnehmen. Sie sind mit unterschiedlichen strukturierten Linoleumarten bekleidet. Das zentrale Treppenhaus wird Teil der Objekte und führt den Besucher vertikal durch das Haus. Der Treppenraum wurde mit dafür konzipierten Kunstwerken von Maria Hinze und Maik Teriete gestaltet. Die Wandbemalung von Maria Hinze wird von der Wand auf den Textilien weitergeführt und ist von außen auf den Vorhängen sichtbar. Das Umbau- und Entwurfskonzept ist eine behutsame, subtil narrative aber auch zeitgenössische Gestaltung für spannende Innen- und Außenräume.

Fläche: 427qm Wohnfläche
Fotograf: Tobias Wille
Auszeichnung: Auswahl für das Berliner Architekturjahrbuch 2014 und für die Jahresausstellung "da!" im Stilwerk Berlin
What Houzz contributors are saying:

HyggeLiG added this to Houzz Tour: A Contemporary Revamp of a 1950s Home
30 September 2018
The study features custom-built oak shelves that span the circumference of the room, hugging its doorways and window. The shelves form an extension of the windowsill, creating an inviting bench with a view of the garden. The desk in the middle is an exact reproduction of the shape of the inner space of the room, rounded corners and all.
What Houzzers are commenting on:
Home Offices with Similar Colours