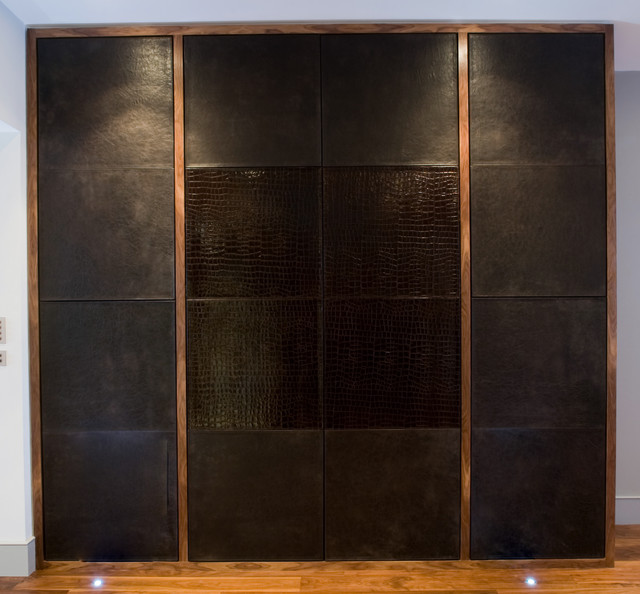 Battersea London Residence - Basement Build
Urban Cape was commissioned by our client to assist with the build of a new basement in their existing home in Battersea.

The brief was to create and design the joinery for a bespoke bar, media unit and wine unit, along with the lighting design and selection of the finishes for the basement and powder room.

The client wanted the interior to exude an aesthetic of drama and sophistication. Being a quite large cavernous area, it was important to incorporate a design that would help to create a sense of warmth and balance the space. The room was planned with a multi-purpose function in mind. Being used for both a children's play area and alluring entertaining area, the design needed to be versatile and hard wearing whilst still offering a bit of glamour.

Leather was selected for durability, elegance, versatility and timeless aesthetic. Should the client wish to change the style or the furniture in the future, the joinery will continue to blend luxuriously into a contemporary environment or considerably enhance the classic appeal of a residence that is more traditional.

A palate of warm walnut timbers, rich chocolate brown and warm grey shades were chosen. Exquisite dark chocolate leather doors were hand crafted in South Africa for the Bar and Media units. Teaming a large shiny croc print with soft plain leather, walnut veneer and a dark Emperador marble from Spain, the units offer the luxury of a natural product whilst bringing about an absolutely stunning and inimitable look to be enjoyed for years to come!
Wine Cellars with Similar Colours