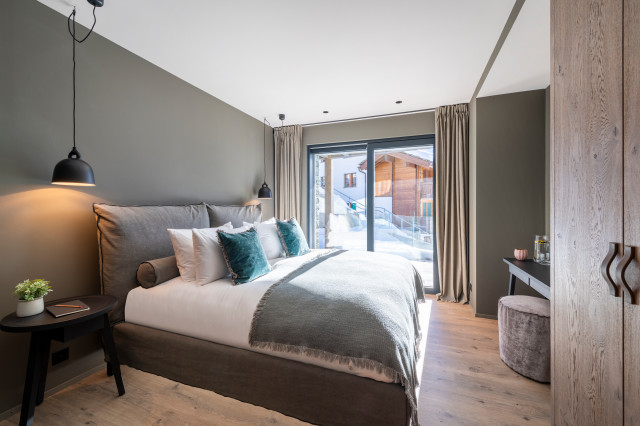 B FIVE | ZERMATT
REFERENZ - B FIVE | ZERMATT
Auf Augenhöhe mit dem Matterhorn entstand 2019 das "B-FIVE" vis-à-vis des bekanntesten Berges der Schweiz, im hochgelagerten Luxus-Chalet-Vierteles "Petit village" in Zermatt.

Das Architekturbüro MLS aus Zermatt designte ein stylisches Chalet mit einer vorgesetzten Fassade, welches eine grandiose Leichtigkeit hat.

Dieses besteht aus 3 großzügigen Wohnungen und einer noch großzügigen Duplexwohnung.
Das Innenraumdesign überzeugt durch seine schlichten Farben und durch den einzigartigen dekorativen Stil, den wir, das diesigner Team, zusammen mit der Bauherrschaft kreieren durften.

Auch wurde in wochenlanger Entwicklungszeit eine neue Vintage Holzoberfläche, welche an Treibholz erinnert, exklusiv für dieses Projekt, von diesigner entwickelt. Diese dekorative Oberfläche ist sehr stabil und wurde auf Risseiche sowie Altholz aufgebracht.

REFERENZ - B FIVE | ZERMATT
The architect's office MLS from Zermatt designed a stylish chalet with a superior facade, which has a grandiose lightness.

It is com
At eye level with the Matterhorn, the "B-FIVE" was built in 2019 opposite the most famous mountain of Switzerland, in the lofty luxury chalet quarter "Petit Village" in Zermatt.
posed of 3 spacious apartments and an even more generous duplex apartment.
The interior design wins you over with its simple colours and the unique decorative style, which we, the diesigner team, were allowed to create together with the client.

In addition, a new vintage wood surface reminiscent of driftwood was developed exclusively for this project by diesigner over a period of weeks. This decorative surface is very robust and was applied to cracked oak as well as mature wood.
Bedrooms with Similar Colours