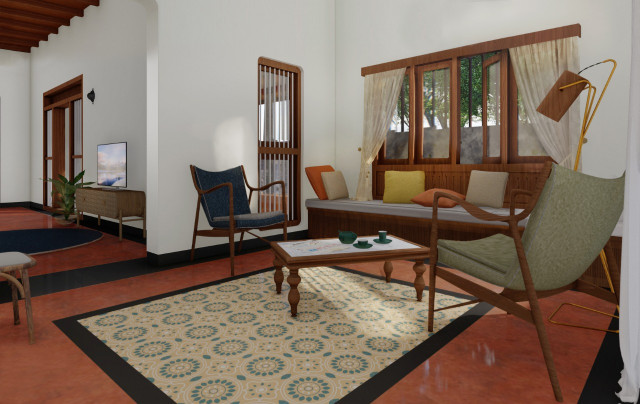 AYILYAM
Residence for Smt. Leela
Location - Thripunithura, Ernakulam
Area - 2500sqft

Ayilyam is a story of traditions, retold. The house compliments to the traditional buildings of Tripunithara, the land of temples. This compact house is a reflection of the class, pride and ethnicity of the town.

The narrow site contributes to bringing focus to the elevation of the house. The exterior wall is adorned with the traditional concept of seating - ' thinna' to bring more character and life to the house. The thinna runs around the house bridging the exterior and the interior. The casual yet minimalistic interiors are decorated with intricate detailing. The unembellished windows adorns the front elevation of the house placidly. This 4bhk house has a dining attached to a tranquil verandah with traditional pillars and seating with ambient day lighting which provides an excellent reading space. The attic space reduces heat inside the house and also provides ample amount of storage.

The love for traditional elements by the client enriched the soul of this design. More the tradition, more its sanctity.
Living Rooms with Similar Colours