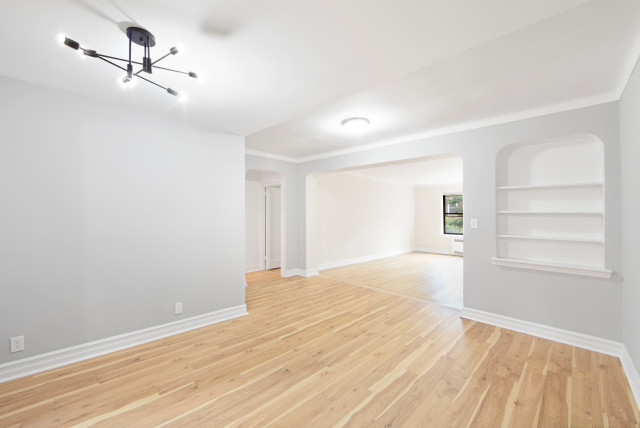 APARTMENT REMODEL: QUEENS
This project is a complete renovation of the two-bedroom one-bathroom home in Queens, which includes the change of the apartment layout, new walls, ceilings, and floors, as well as kitchen and bathroom remodel. The overall design concept is a modern and functional yet welcoming space for a family.

In the kitchen, the use of white and grey kitchen cabinets creates an airy and open space, and modern stainless steel appliances give it a complete and contemporary feel. The advantage of this type of kitchen design is that it can make a small kitchen feel larger, and keep it clean and clutter-free. The open concept helps to maintain the flow of the space and communicate with guests while entertaining.

Likewise, the bathroom is updated with a sleek and modern design. This bathroom design is inspired by nature, with an accent wall of green mosaic tiles reminiscent of a forest, and a wooden vanity adding to the earthy feel. The marble floor and walls help to create a feeling of luxury and openness, while the modern shower fixtures and a glass shower door add a touch of contemporary style.

By updating the layout and finishes in the home, it is transformed into a stylish and welcoming space.