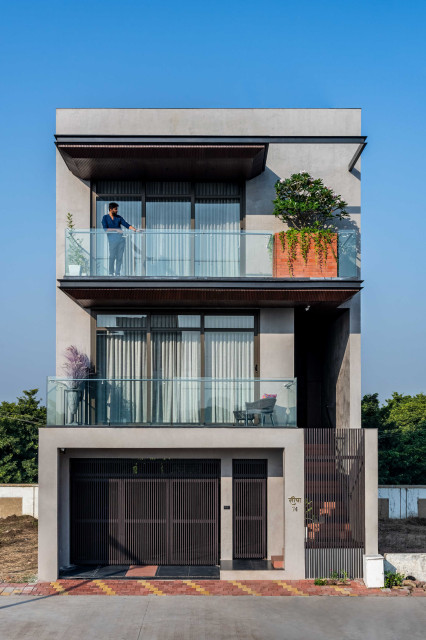 Aavarna
Aavarna , the Sanskrit denotation of the word Shapes, is an architectural vision to this single dwelling bungalow. This abode is a simple longitude rectangle in the narrow plot size of 24' x 56'. Located in a small town named Shania near Surat, this adobe is what we call "Aavrana". The plot is an elongated rectangular space which came with its challenges and benefits.
According to the plot placement, the sides are considered into having a common wall which restricts us from providing any ventilation or light source from the sides, which results the front balcony and some interior handles.
The space designing was made convenient by seggregating the space requirements and planning out accordingly.
What Houzz contributors are saying:

Shristi Nangalia added this to 8 Trends Spotted From the Most Popular Indian Exteriors of 2021
5 December 2021
1. Full-height glazingDue to site restrictions, Studio 17 had to maximise the inflow of light and ventilation from the front of this Surat home alone. Floor-to-ceiling windows in the balcony offered the perfect solution to the problem, a pretty common one many homeowners face in India. Even otherwise, the reflectiveness of the glass and clean lines can add a contemporary charm to home exteriors of all sizes and styles.Find home design professionals in your area

Preeti Singh added this to How to Find the Right Architect
18 November 2021
The questionsWondering what to ask at the first interview? Let the candidate know what is most important to you about your project and solicit thoughts about incorporating that into the process. If you are renovating, start with the aspects of your house you currently like or would like to take better advantage of.Here are a few questions to get the ball rolling.Can I see some examples of your work?How would you approach this project?What are some of the largest obstacles on a project like this?How do you charge, and what are your fees?How long will this project take for design, building permits and construction?Can you give me referrals for tradespeople you like?Are there any red flags with what I want to do?

Vaishnavi Nayel Talawadekar added this to Surat Houzz: A Voguish Home With a Double-Height Kitchen
18 July 2021
The exterior of the home is characterised by grey and glass. The gate at left at the entrance demarcates the enclosed car park from the road beyond. "The home is likely to be obstructed by neighbouring properties in the future, restricting ventilation and lighting. We, therefore, resorted to welcoming light from the front, in the way of spacious balconies," says Mangukiya. From paint to cladding materials, find out how to add an element of wow to the exteriors of your home
Exteriors with Similar Colours