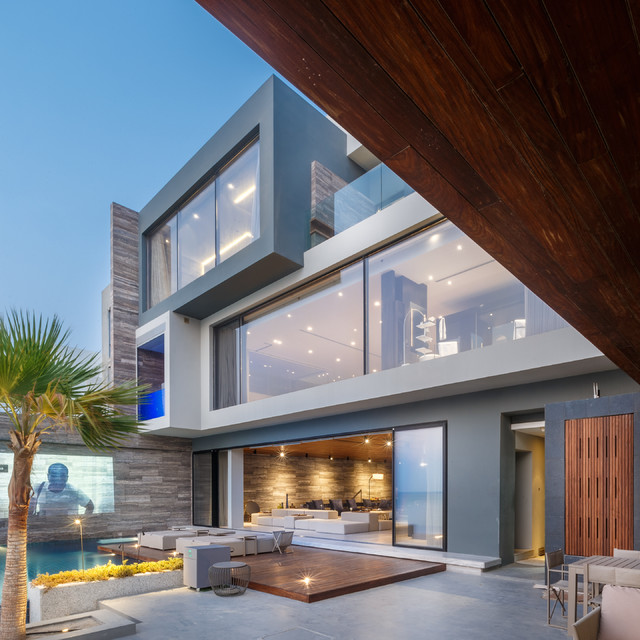 What Houzz contributors are saying:

Preeti Singh added this to What Does an Architect Do?
13 August 2019
5. Co-ordinates with contractorsThe architect plays a key role in every stage of construction of the home. The construction work of the building is divided into different sections and handed over to various contractors for the civil work, plumbing, flooring, electricals, HVAC (heating, ventilation and air conditioning) and so on.The architect will help the homeowner select and finalise the contractors for the project. Alternatively, the homeowner can select contractors whom they are comfortable to work with or have worked with before.Additionally, the architect and their team have to co-ordinate with various consultants working on site so as to ensure smooth construction at site.The architect makes regular site visits to check the progress, clarify the working drawings to the contractors and ensure good quality of work. The construction flaws (if any) are identified and have to be rectified by the contractors.Read more:6 Key Questions to Ask Before Hiring Your ArchitectBusted! 5 Myths About Hiring an ArchitectTell us: Have you recently constructed a home? What was the scope of work of your architect? Share in Comments below.

Shristi Nangalia added this to Should Glass Be Used on Home Facades in India?
20 June 2018
ConsDaylight brings a substantial amount of heat into the building. Especially in Indian homes, where cooling is needed for almost 8 out of 12 months of the year in most cities, heat intake becomes a major setback. If glass is the only bulwark against the sun, as temperatures rise, the indoor cooling needs increase as well. When installed without sufficient shading devices and surface treatment, glass allows daylight glare into the interiors.Glass surfaces have low thermal mass and they tend to pass on heat more easily compared to other exterior materials like concrete, brick, wood and so on. Transfer of heat directly shoots up the cost of temperature maintenance.Its resistance to impact and stress is lower than structural and masonry materials. This not only makes glass a poor choice for earthquake- and cyclone-prone regions, but also raises security issues. The chances of installation errors are higher in a glass facade construction. Any faulty setup becomes the inlet for water seepage, air draughts and noise. The installation and retrofitting in glass elevations demand very skilled labour. This, ultimately, adds to the bottom line of the material. Glass facades need regular cleaning and maintenance, thereby increasing the overall post-installation and lifelong maintenance cost.
Exteriors with Similar Colours