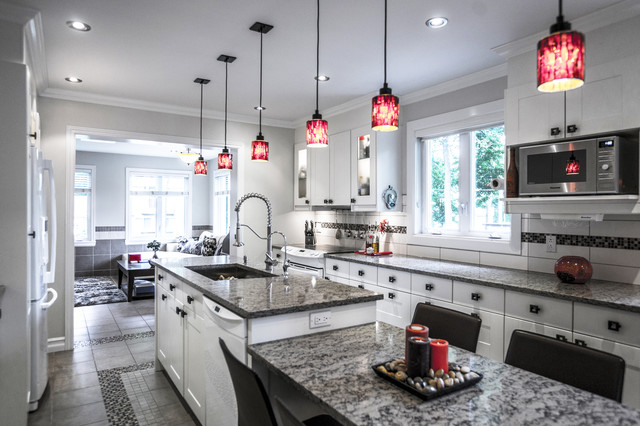 A kitchen Remodel on a shoestring budget.
TOC design
When it comes to kitchens, we understand that they are the greatest investment in your home.
But what if you could have what you want without breaking the bank.
This kitchen is a great example of just that.
Here are a few tips
If the existing layout is good, just reface the cabinet doors, don't forget the sides. I like to keep a kitchen white, I find that by painting walls and adding colorful accessories can make a kitchen appear bigger, and if you ever get tired of the wall color, it is a lot less expensive to paint.
If going with an all white kitchen I highly recommend to lacquer or polyurethane the cabinet doors, by professionals, don't just get a gallon of paint and DIY it, it won't last. Don't go with pure white, Unless you like the clinical look. My favorite color for kitchens is CC-10 by Benjamin Moor.
If your existing cabinets don't go to the ceiling, I highly recommend to add the same color panels above and finish it with a crown molding, this will bring height and richness to your kitchen.
Lighting is the Key ingredient, to making things POP. High light your back splash, add accent lighting or decorative fixtures, If possible change your existing Halogen light bulbs to LED. All that yellowish light you once had will be pure white, this enhances the true color of your element, just remember that when choosing your materials, you should look at under the same type of lighting.
Don't forget the details, add light valance throughout , this will finish off the look of your cabinets, choose a really pretty door handle, this is like the perfect accessory to that little black dress, choose a simple back splash tile, you can never go wrong with a subway tile, just jazz it up with a mosaic, this will give you the "bling", Yes the mosaic tile is an expensive feature, but in this kitchen I only need 2 tiles for the full kitchen.
I know I said that the lighting is the most important element, but in today's resale value, most people really want hard surface counters, it can be granite or quartz, depending on brand, style or make, prices can vary quite a bit, So I would highly recommend your choose this material first, and then the tiles and paint colors. This brings us to a must, feature that new counter with an under mount sink and please change the faucet and add a soap pump, they are so practical, I know an extra expense, but these are items you can buy on sale before the renos
In this kitchen I got lucky the flooring tile was neutral and would work with our new concept, I just tweak it by removing the existing border tile that was surrounding the kitchen island, and adding the same mosaic tile I used for the back splash, again this was more cost effective that changing the whole floor.
Appliances are the 2ed most important part of your kitchens, so this is when you must decide if it is worth the investment, In this kitchen we decided to stay with the existing appliances as they were only 3 years old, we did however remove the existing hood – fan and replaced it with a concealed fan. People are always asking "where is the fan?" yes it is true we lost storage in this area, as the doors conceal the hidden fan, but it was the perfect space to add a chalk board for notes or list. Just open the doors.
I also added a few custom elements to bring a contractors kitchen into a custom kitchen, without braking the bank, details like a shaker skirt behind the island instead of a flat panel, extra cabinet at the coffee station with posts instead of fillers, a new mini wine fridge, and moldings behind island instead of a toe kick. I also added an open niche box instead of a cabinet above the fridge with a mini recessed light to high light clients art .
Finally have fun with your accessories, just don't overdo it, a few key pieces are all you need, get rid of the clutter on your counters.

What Houzzers are commenting on:

Kitchens with Similar Colours